Vision of Oki Laboratory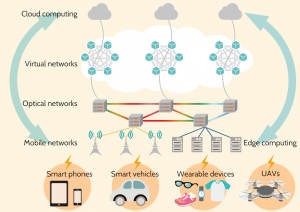 In the era of Internet of Things (IoT), big data, and artificial intelligent, evolution of information and communication networking technologies are required. Information and communication networks connect people and things, including smart phones that collect various data, IoT devices, data centers, clouds bringing values to people, and applications. They are expected to maximize the benefits to people. Our laboratory is working on the research and development of high-speed, reliable, and flexible networking technologies, with both theoretical and practical approaches, considering various aspects of social, information, devices, and energy. The followings are major research topics in our laboratory.
1. Optical networking
We study various aspects of optical networking technologies considering network design and control, systems, and devices. Especially, we research elastic optical networking, which can assign network resources including routing and spectrum allocation under unpredictable traffic demands.
2. Network softwarization/virtualization
With the software-defined network (SDN) technology, network devices are defined as virtual functions working on general hardware devices, which has enabled us to compose, operate and, control networks flexibly and dynamically. Our laboratory works on the design for SDNs that can optimize the efficiency of network resource usage based on network traffic demands.
3. Computing and networking integration
IoT devices have been distributed widely to collect valuable human-related and environmental information. However, the existing networking and computing capabilities are not enough to handle trillions of devices. This laboratory works on integrated architecture with the edge-computing criteria, which could be a promising solution for real-time IoT applications like car-driver assistance services.
4. Mobile and social applications
These days, people's movement and online social activity logs have been databased to be leveraged for a wide variety of network applications. Our laboratory, particularly, works on predictive network operation based on predicted users' communication behaviors.